Kristina Gordadze was born in Batumi, Georgia. She raised in a very musical family. Both parents are musicians. Her father Vachtang Gordadze is a famous jazz pianist, song writer and composer residing in Moskau and Tbilisi. From childhood classical music and jazz became an important part of Kristina`s life. First steps into the world of classic music started very early. Her grandmother and piano teacher Zinaida Ungiadze gave Kristina first piano lessons from the age of three. Since this time Kristina continued to play regularly piano and started to sing. Her piano teachers at music school were Mrs. Irina Hersh (Batumi, Georgia) and Mr. Vladimir Korolkov (Moscow, Russia).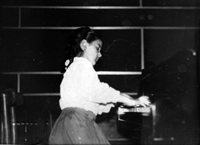 From the age of twelve she practiced singing almost every day. In order to provide wider musical education for young and talented daughter the family moved from Georgia to Russia. In Moscow Kristina started lessons with various well known singers and vocal teachers. From the age of 17 Kristina became a student at the vocal faculty in the Moscow State University of Culture and Arts. She graduated as a classical opera singer in 2005. Her Professor was the famous sopran singer Leonora Kiselova. Additional to her scientific vocal education Mrs. Gordadze is holding a degree for vocal pedagogic.
She successfully completed master classes hosted by famous opera vocalists like: Zurab Sotkilava (Georgia), Natalie Dessay (France), Janet Perry (USA), Michael Paul (USA) and Nani Bregvadze (Russia). Kristina Gordadze is the winner of various international Opera and vocal competitions in Germany, Russia, Ukraine, Georgia and Holland. The vocal artist is doing regulary concerts in the entire European Union, East European countrys and the Caucasus. Since 2011 Mrs. Gordadze is residing in Germany, Potsdam.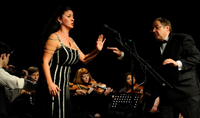 Her concert appearances have included: Mozart C-Minor Mass and Requiem, Verdi Requiem, Bach St John Passion, Bach Mass in G minor , Handel Messiah, Pergolesi Stabat Mater, Schumann Myrthen, Wagner Wesendonck and many, many more. In opera and operetta, she has sung the roles of Pamina (Mozart), Zerlina (Mozart), Susanna (Mozart), Euridice (Gluck), Tatiana (Tchajkovskij), Iolanta (Tchajkovskij), Silva(Kalman), Donna Anna(Gilev), Elisa (Lo ewe)… Kristina Gordadze is a versatile singer who is not afraid to try something new and loves experimenting with voice and sounds.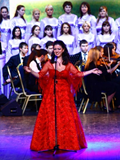 The concert program with a jazz quartet pianist Vakhtang Gordadze "Classic and Jazz" was one of the brightest event in the cultural life of Batumi State Theater in 2011. Kristina is in love with jazz and other experimental music. During her work she is always open to creative ideas and continues her search in different genre with interesting musicians.
Kristina Gordadze has a bright lyric soprano voice. Her sound is covering the full range of soft silvery tones with a unique bright and shiny characteristic. Her performances are always a warm experience to the audience.